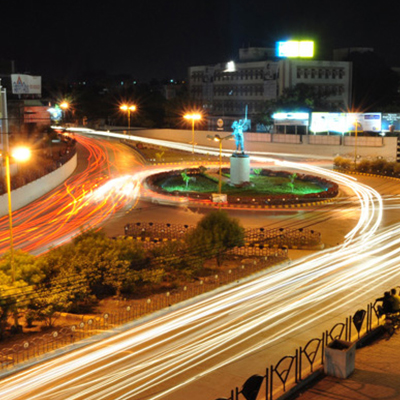 Rajkot is a well-placed city of Gujarat - INDIA. Even, It is the industrial hub of Gujarat with good infrastructure, suitable climate conditions, easily available trained human resources and well-followed law and order. Moreover, due to Gujarat Industrial Development Corporation (GIDC), the Rail, Road, Port, Air connectivity in addition to Power supply, Telecom, Internet is never an issue.
Rajkot offers a blend of traditional and contemporary business options for its people. Here is a list of few businesses that are developing in the Rajkot: machine tools, Gems & Jewellery, kitchen wares, automotive components and real estate.
Most businesses in Saurashtra and the Kutch region are carried out in Rajkot. One of the major reasons for this is the existing business-friendly atmosphere of Rajkot.

It is also a major hub for stock trading in the country.
With a population of about 1.5 Million, Rajkot is in the prime location of Gujarat and even the business capital. With several benefits in business areas, it is also enriched with cultural values. Rajkot possesses number of religious and seasonal celebrations during certain days of the year. Mahatma Gandhi who is the Father of the Nation also spent his early years of life in Rajkot.
Rajkot is flaunted with various tourist attractions such as the famous Swaminarayan Temple, The Watson Museum and Library, Kaba Gandhi No Delo, The Rajkumar College, Rashtriya Shala, and Jagnath Mandir.
The craving for knowledge is high among the people of Rajkot. This is evident from the fact that, it has the highest number of Daily newspapers in Gujarat.
MODES OF TRANSPORT

By Air
Daily various carriers serve multiple flights to Mumbai. Hotel Comfort INN Legacy is about 3.2 kms from the domestic airport. Direct Flights from abroad arrive at the regional International Airport in Ahmedabad, which is about 216 kms from Rajkot.
By Rail
Rajkot Railway Station is the main railway junction of Saurashtra (region). Trains for all the major cities of India are available from here. Hotel Comfort INN Legacy is 1.9 kms from the railway station.
By Road
Rajkot city has regular access to more than 1100 buses and coaches managed by the Gujarat State Road Transport Corporation (GSRTC) and many efficient private players to other cities of Gujarat. Rajkot is well connected with Gujarat State Highways, National Highway 8 and the East-West Corridor. The private bus operators also connect the city with other states like Maharashtra, Rajasthan, Delhi, Madhya Pradesh and so on.